For World Antimicrobial Awareness Week 2022, we speak to Matthew Dunne, Director for Drug Discovery at Micreos Pharmaceuticals, about the importance of creating new targeted antibacterial products. 
Please can you introduce yourself and tell us about your role at Micreos?
My name is Matthew Dunne, and I am a Director for Drug Discovery at Micreos Pharmaceuticals in Switzerland. I provide strategic and technical leadership for R&D and preclinical activities within our newly established Division of Antimicrobial Vector Innovation. I joined Micreos in May of 2022 from the Swiss Federal Institute of Technology Zurich (ETH Zurich) at the same time as Dr. Samuel Kilcher, who sits alongside me as co-Director within the new division, which is developing a new class of medicines we have coined Antimicrobial Vectors.
In my capacity as Director, I work from Micreos' state-of-the-art research facility in Switzerland, where I analyze data together with our growing team of genetic engineers and biologists. In addition to providing leadership of this new, highly innovative drug discovery division, I provide assistance with developing our regulatory affairs strategy, the management of external innovation development projects with industry partners and academia, as well as dealing with a variety of diverse tasks that are typical for a fast-growing biotech company.
Image Credit: Inspiring/Shutterstock.com
You are currently a Director of Drug Discovery at Micreos, a company working to develop the world's first targeted antibacterial products. Can you tell us more about Micreos' vision and the importance of finding alternatives to antibiotics?
Micreos is working towards providing innovative therapeutic solutions that deliver a profound and transformational impact to improve the standard of care for people living with devastating illnesses.
Antimicrobial resistance, or AMR is a naturally occurring process that cannot be eliminated; it can only be controlled. Unfortunately, decades of overprescribing antibiotics in combination with the use of antibiotics in agriculture and farming, such as growth factors for livestock (that has been banned in the EU since 2006), has driven the spread of antimicrobial resistance genes among bacterial pathogens. AMR is estimated to have caused 1.27 million deaths in 2019, with this number expected to keep on growing. Nevertheless, we are fighting back.
At Micreos, we are developing two classes of antimicrobials: Endolysins and Antimicrobial Vectors. Both have different modes of action compared to antibiotics, making them capable of killing all AMR bacteria. Both technologies provide other important advantages, too, such as their ability to precisely kill a specific pathogenic species while leaving commensal or "good" bacteria unaffected. Also, due to their alternative mechanisms of action, they are able to circumvent some of the harmful side effects of antibiotic use.
The drug discovery sector has seen considerable advances in the last decade, thanks largely to technology and increased collaboration. How do you feel this sector has changed in recent years and what has personally been the most exciting development that you have seen?
Global healthcare is rapidly transitioning towards precision medicine. Personally, I think the most impressive advancements over the last decade have been realized with nucleic acids. For example, antisense oligonucleotides (ASOs) and small interfering RNAs (siRNAs) that modulate gene expression are being designed for large indications, rare diseases, and even patients with ultrarare, "n-of-1" diseases.
In the last two years, we all witnessed another form of nucleic acid therapy, mRNA. In less than a year, scientists went from sequencing the SARS-CoV-2 virus to designing different mRNA vaccines for global distribution. I am sure there are going to be many more exciting developments within this space in the near future. I am especially interested to see how the mRNA field progresses with regard to gene therapy, where mRNA can be administered to compensate for a faulty gene or protein.
Image Credit: paulista/Shutterstock.com
Micreos has recently launched a new world-class antimicrobial vector engineering team to ramp up the fight against antimicrobial resistance (AMR). Can you tell us more about why this team was created and the work you are carrying out?
Bacteriophages are natural predators of bacteria that, for over 100 years, have sat on the sidelines of modern medicine. They have mostly been applied as an experimental treatment, reserved for patients suffering from chronic infections that are untreatable with conventional antibiotics. As the threat of AMR intensifies, there is a significant demand for developing and enhancing the capabilities of alternative therapeutics to treat bacterial infections, among many other chronic and rare diseases.
At Micreos Pharmaceuticals, we are heavily invested in harnessing the power of genetic information. In the Division of Antimicrobial Vectors, we use the genomes of bacterial viruses or bacteriophages as "blueprints" for engineering using CRISPR-Cas technology as well as various synthetic approaches. First, we isolate and sequence bacteriophages from different environments that are predisposed to target and kill certain pathogenic species. Next, the fun starts, as the team and I get to apply our knowledge and expertise in bacteriophages, biochemistry, and structural biology to reprogram these genetic "blueprints" to generate Antimicrobial Vector libraries.
We can engineer structural genes for improved stability, introduce heterologous payloads for improved potency, remove unneeded elements for better efficiency and safety, and reprogram their targeting capabilities to reach bacteria in niche locations, such as intracellular reservoirs or biofilms. The resulting libraries of Antimicrobial Vectors provide unique and therapeutically important functions when used against bacterial infections.
This new team combines individuals with a variety of knowledge across various sectors, including molecular microbiology, genetic engineering, and phage therapy. Why is having a multidisciplinary team vital when developing new ways to tackle infectious diseases? 
We are fortunate to have assembled a multidisciplinary team of experts proficient in all aspects of the Antimicrobial Vector R&D process, from selecting and testing environmental bacteriophages, to designing genetic scaffolds for reprogramming, to early-stage production, efficacy assessment, manufacturing optimization, and preclinical testing.
Our team also works very closely with experts in clinical trial design and regulatory affairs. This not only makes for interesting coffee breaks, where ideas and alternative perspectives are thrown around, but it ensures that we have a drug development pipeline that runs as efficiently as possible. It is important to have frequent input regarding aspects of safety, translatability, and efficacy to ensure our medicines will translate as quickly as possible from bench to bedside.
Image Credit: Jarun Ontakrai/Shutterstock.com
How can the technology developed at Micreos help to tackle AMR through the creation of precision antimicrobials?
We are seeing more and more biologics and recombinant protein-based therapies in development to accompany small-molecule antibiotics in the fight against AMR. Micreos has already established itself as the global experts in engineering of endolysins, which has led to an array of precision protein-based antimicrobials capable of targeted killing of harmful S. aureus pathogen while leaving beneficial bacteria intact and without triggering resistance development.
During my PhD studies at EMBL Hamburg, I solved the atomic structures of these cell wall degrading enzymes and witnessed firsthand how miniscule amounts of endolysin could eradicate entire monocultures of specific bacteria in minutes with no off-target effects against "good" bacteria, such as those found on our skin or in our guts. Unlike the development of AMR against antibiotics, scientists do not expect to see similar resistance mechanisms emerge for endolysins due to their targeting of essential cell wall components that are extremely difficult for bacteria to modify.
Currently, our pharmaceutical grade endolysins are being developed for atopic dermatitis, diabetic foot ulcers, cutaneous T-cell lymphoma (based on excessive skin colonization by S. aureus) and bloodstream infections.
At the right time, and following extensive preclinical testing, we are all excited to witness our Antimicrobial Vector technology follow in the footsteps of our endolysins as it translates from discovery to clinical trials and onto improving the standard of care for people suffering from infections and many other devastating disorders.
Every year, the world celebrates World Antimicrobial Awareness Week (WAAW), dedicated to spreading awareness about AMR. The theme for 2022 is 'Preventing Antimicrobial Resistance Together'. What does this message mean to you, and how can international collaboration help to tackle this global health threat?
In 2019, nearly 5 million people died from illnesses involving AMR bacteria. Based on the current trajectory, these numbers are only going to keep rising – and at quicker and quicker rates – with predictions estimating AMR will cause 10 million deaths by the year 2050. The solution to controlling antimicrobial resistance is to work together internationally to implement more effective governance surrounding antimicrobials, improve public awareness surrounding antibiotics, and fund the development of new classes of antimicrobials to bolster our arsenal of available medicines.
It is important that drug developers, researchers, health authorities, and academics all play a part, no matter how big (e.g., establishing initiatives and investment funds) or small (e.g., tweets, chats among friends in the pub), to help raise public awareness surrounding AMR. Events such as those taking place during WAAW and their ability to disseminate information about AMR and its threat to our everyday lives are incredibly important. The public needs to know that AMR could impact our normal way of life. We risk reversing nearly a century of progress in public health if we allow normally innocuous infections to again become untreatable.
In addition to WAAW, we are seeing an expansion in other AMR initiatives, the introduction of innovation funds, and a growing number of collaborative organizations providing much-needed platforms for engagement and collaboration between industry, researchers, non-profit organizations, charities, and governments around the world.
Micreos has always focused on forging strong collaborations with other industry partners, clinicians, and academia to help advance the development of our precision antimicrobials. For instance, our proprietary endolysin technology was created together with ETH Zurich, which remains an important partner to us moving forwards with our Antimicrobial Vector technology.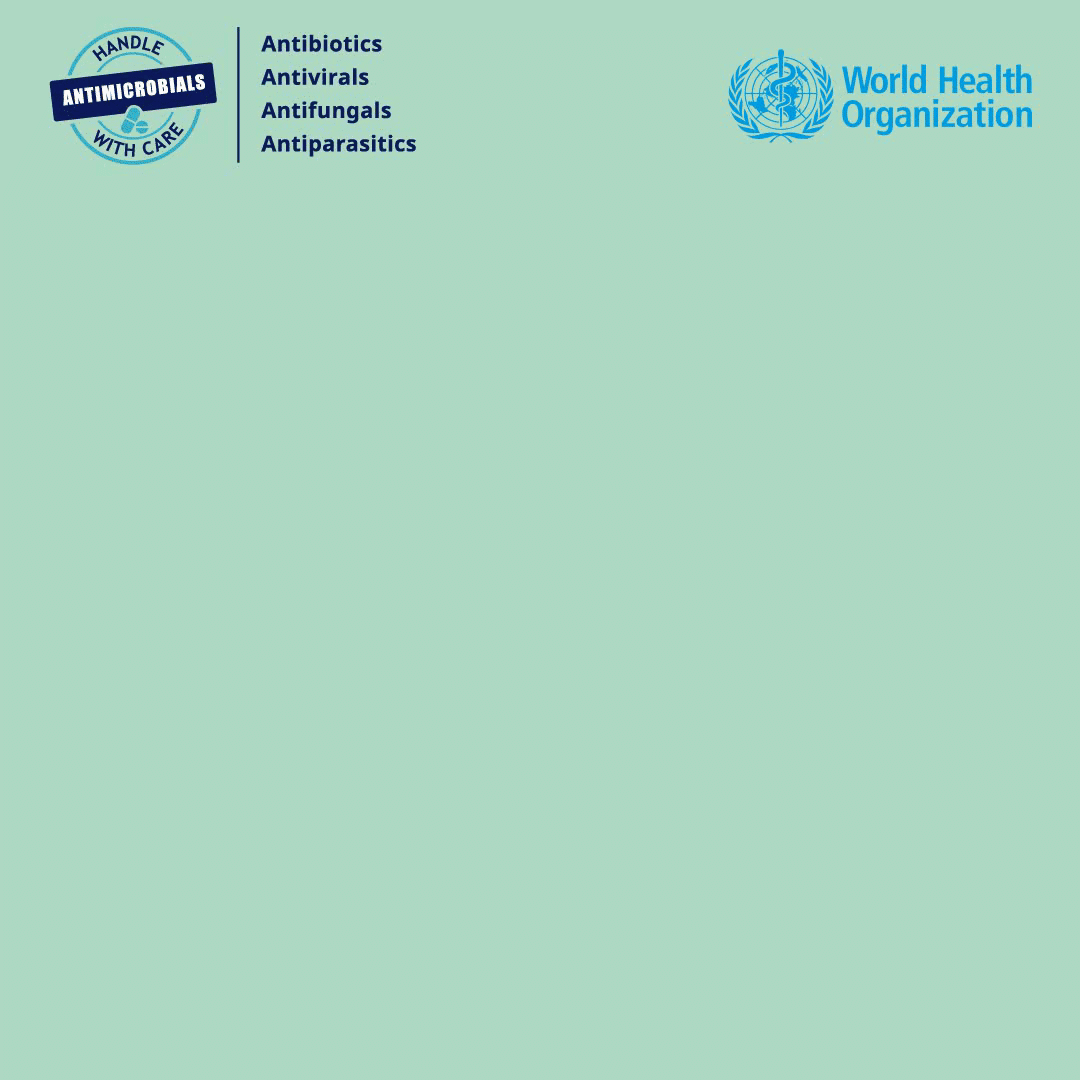 Image Credit: The World Health Organization
Despite AMR being described as one of the top 10 threats to humanity, many people still do not understand its wide-reaching effects. Why is this, and why is it therefore so critical to continue to raise awareness?
I believe this is due to poor public communication and education regarding what antibiotics are, how they work, and what AMR really means. In 2015, when the WHO asked 10,000 people from 12 different countries about antibiotics, 76% of respondents believed that antibiotic resistance happens when the body becomes resistant to antibiotics – rather than bacteria becoming resistant to the antibiotics. Moreover, 44% of people believed they are not at risk of antibiotic-resistant infections if they simply take antibiotics as prescribed and of course, that is not correct.  
Governments, academics, drug developers, and health professionals must do better at communicating a clearer message about what antibiotics are and – most importantly – why they are a precious resource that we cannot continue to take for granted.
What do you believe the future of antimicrobials to look like? Is it possible to one day see a world without resistance?
Another imminent threat to human existence is climate change, which shares many similarities, such as urgency, severity, and global effects, as we are seeing with the spread of AMR. What gives me hope for the future of antimicrobials and tackling AMR is witnessing the growth in public conversation and awareness surrounding climate change; the same will happen with AMR.
Improving awareness for AMR is about educating and mobilizing audiences so they are driven to take their own actions and make their own decisions toward confronting this growing crisis. I am hopeful that everyone will play a part through communication, the sharing of novel solutions, and advocating for change that will be shaped by our different experiences, cultures, and underlying values.
Where can readers find more information?
About Dr. Matthew Dunne
Originally from Macclesfield in the Northwest of England, Matthew studied Biochemistry at the University of Birmingham before obtaining a Ph.D. in Biochemistry and Structural Biology from the European Molecular Biology Laboratory (EMBL) in Hamburg and the University College Cork, Ireland, where he characterized the atomic structure and function of endolysins.
For the last eight years, Matthew has worked as a Postdoc and then Senior Scientist at the Swiss Institute of Technology in Zurich (ETH Zurich), where he investigated the molecular-level interactions of bacteriophages against a wide variety of foodborne and clinical pathogens, produced novel bacterial diagnostics, and developed genetic engineering tools that have been used to produce different types of bacteriophage-based therapeutics and diagnostic elements. Matthew maintains a research group within the lab of Prof. Martin Loessner at ETH Zurich, where he is actively involved in using genetic engineering to further explore how bacteriophages interact with their hosts, as well as lead a team of researchers developing bacteriophages to treat urinary tract infections for assessment in future clinical trials.
Matthew lives in Zurich with his wife, Alyssa Hill, also a Senior Scientist in Pharmaceutical Chemistry at ETH Zurich. In his free time, you will find Matthew swimming in the lakes and rivers dotted around the city, coaching and playing field hockey for the Red Sox HC, or skiing, hiking, and exploring Switzerland with Alyssa.
---
Eichenseher F, Herpers BL, Badoux P, Leyva-Castillo JM, Geha RS, van der Zwart M, McKellar J, Janssen F, de Rooij B, Selvakumar L, Röhrig C, Frieling J, Offerhaus M, Loessner MJ, Schmelcher M. Linker-Improved Chimeric Endolysin Selectively Kills Staphylococcus aureus In Vitro, on Reconstituted Human Epidermis, and in a Murine Model of Skin Infection. Antimicrob Agents Chemother. 2022 May 17;66(5):e0227321. doi: 10.1128/aac.02273-21. Epub 2022 Apr 13. PMID: 35416713; PMCID: PMC9112974.